You already follow
Jennifer from Life, Crafts and Whatever
, right? If you don't, you should. I'm pretty much in love with her blog. What I love most is that it almost feels like a one-sided conversation I'd have with a friend, it's real and honest and funny.
I found her blog a bit ago when I came across this post
UFC + subway art = home decor?
I was all,
"OMG! A CRAFT/HOME DECOR BLOGGER WHO LOVES MMA?! SHUT UP!"
You all may not know this about me yet, but I'm also an MMA fan. Back in 2006 my husband and I drove 17 hours to Moline, IL to see Pat Miletich fight Renzo Gracie. We had off for three days, and drove 17 hours EACH way. We went to see his MFS Gym, home of the
IFL's Quad City Silverbacks.
I was a casual fan before and had attended events, but that was what made me love the sport and become a real fan.
/end tangent
I was super excited when I saw that Jennifer was hosting this linky party: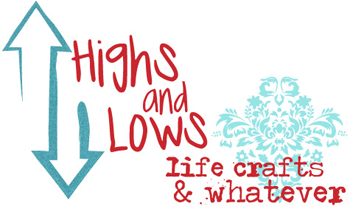 When I'm feeling a bit down or off, I like to think back over all the things in the recent past I have to be grateful for, so this is right up my alley! I think we can all use this, so grab her button and come play along!
Lows:
I didn't get to see my mother or grandmother for mother's day. I live about 3 hours away, and it just wasn't in the cards for today.

I can't find my favorite flip flops. They just up and disappeared, because I had them last week and now they are gone. They're perfectly molded to my feet from wearing them all last summer, and I'm bummed just thinking about having to break in a new pair.

I totally slacked in responding to blog comments. Sorry, I promise I'll get better at this!

Highs:
My brother-in-law graduated from college yesterday. My husband and I have been together since he was like 9, so I totally think of him as my own little bro, too. He's off to Vet School in the fall, and we're all so freaking proud of him.

I got my hair cut, and the new stylist really got what I was saying. I put on a brave face before hair cuts, "It's just hair, it'll grow back if I hate it!" Luckily, I love it, it's super cute!
I have really, really thick hair and it grows super fast. That might sound awesome, but it's not. It's a PITArse to manage, so I'm thrilled with this cut. I can possibly now go six weeks without a hair cut and still look alright. Possibly.
We're a few weeks out from our next cruise! 9 nights of Caribbean bliss coming right up!
My family are watching our animals, so that means I'm just a few weeks out from seeing them and getting to hang out a bit!

Speaking of my awesome family, my parents gave us a patio set for Christmas and it was finally nice enough today to put it together. This is our first nice set, and I am so excited to trade up from the plastic chairs and broken plastic table we've used for the last three years. (The table had a hole in it, and we had a box of dominoes on top that covered the hole. For three years. No lie!)
We broke out the grill, made burgers and played yahtzee while rocking out to summer tunes it was so nice!
While talking about today and the previous "High," I found out that my iPhone corrects the word "Awesome" to "Awesomesauce"
Super High:
My phone may think I'm lame, but YOU (the collective "you" of blogland, at least) don't! This week I've received more comments and emails than ever before, and because of that I've found cool new blogs to follow! I'd like to sincerely thank you all in blogland for being so welcoming, encouraging, thoughtful and inspiring.
I really, really appreciate it and I think you're all AWESOMESAUCE!